Our Smoked Specialties
All of our smoked meats are smoked on the premises & seasoned with our own flavorful, special rub slow cooked to perfection
Pulled Pork
Beef Brisket
Chicken
Homemade Smoked Sausage
The best barbeque critics judge the preparation of BBQ based on the "smoke ring", which is created by choosing the right wood, maintaining the balance of temperature and moisture. We slow cook the meats 8-16 hours using cherry, oak and apple wood, which enhances the flavor and creates the pinkish smoke ring on the outer edge of the meat.
Appetizers & Soups
Platter of 3 Sliders
Mix or match with your choice of sauce.  Your choice of:
pulled pork
beef brisket
chicken or sausage
$9.95
 Robin's Smoked Wings
Traditional Wings
1/4 Rack Baby Back Ribs
$7.95
Fried Dill Pickle Spears
Lightly breaded served with dipping sauce.
$5.25
BBQ Fries
Hand cut curly fries, piled high & topped with pulled pork, melted cheddar cheese.
$9.95
Pork  Bellie Taco
In house cured pork bellie grilled and served in a soft shell taco with lime and vinegar cole slaw.
$8.95
Side Sausage 2 Links
$8.95
Combo Appetizer
Wire Mill Cheese Spread with Crackers
6 Wings (Traditional or Smoked)
Deviled Eggs
Fried Dill Pickle Spears
$14.95
Bootsie's Brunswick Stew
Southern specialty pork, chicken, corn, tomatoes, okra, & onions.
$6.95
Stacey's Tortilla Soup Bowl
Shredded chicken, navy beans, black beans, fresh cilantro, topped with slices of fresh avocado.

$6.95
Soup of the Day
$6.95
Pork Rib Chili Bowl
$6.95
Salads
House
Chopped romaine, tomato, carrots, cucumbers & onions.
$7.95
Iceburg Wedge
Vine ripe tomatoes, carrots, cucumbers, onions, & homemade bacon.
$9.50
Cobb
Chopped romaine, homemade bacon, chicken, tomatoes, hard boiled eggs & avocado.
$11.95
Hand pulled chicken
Chopped romaine, carrots, tomatoes, cucumber & onion.
10.95
Salad Add On's
Brisket $8.00

Grilled Chicken $6.00
Pulled Pork $6.00
Children's Menu (under 12)
Any smoked item with one side or Chicken Tenders with one side.
$9.95
Homemade Desserts
We offer a selection of the following homemade desserts:
Banana Cream Dessert
Warm Peach & Cranberry Crisp a'la mode
Apple Crisps a'la mode – Carrot Cake
Warm Chocolate Brownie a'la mode
Root Beer Floats
** Thoroughly cooking meats, poultry, seafood & eggs reduces the risk of  foodborne illnesses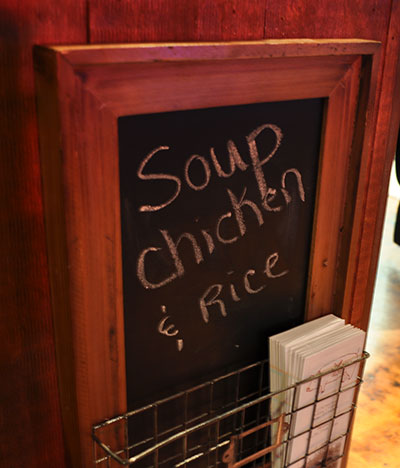 Famous Smoked Platters
All Platters are served with 2 sides, cornbread & topped with any of our own BBQ sauce(s):
Our Specialties:
Dry rubbed, slow cooked, tender, flavorful and piled high.
Curly's Smoked Half Chicken
Moist and tender prepared to perfection!
$15.95
Baby Back Ribs
$18.95
$28.95
Beef Rib
2 Large beef ribs tender and falling off the bone. Not available for lunch.
26.95
Homemade Smoked Sausage
$15.95
Combo Platter
Select 2 meats and 2 sides
$22.95
1/4 Rack of Ribs
1/4 Chicken
1/4 lb Brisket
1/4 lb Pulled Pork
2 Homemade Sausage Links
ADD EXTRA MEAT TO ANY PLATTER $10.00 UPCHARGE
Choice of Homemade Sauces:
Classic – Honey – Chipotle
White – Vinegar
Sides
4.95
Hand cut curly fries
Sweet potato fries
Garden side salad
Mac and cheese
Smoked baked beans
Rice and beans
Fried okra
Collard greens
Cole slaw
Pepper mac and cheese
Tater tots
Sandwiches
Served on a grilled bun w/ homemade chips, pickle & cole slaw.
* Add $2 for fries *
Pokey's Smoked Pulled Pork
Slowly smoked and piled high.
11.95
The Monster
Beef brisket with side of horseradish.
11.95
Smoked Chicken Salad
Pulled off the bone with light mayo, celery and seasonings, with lettuce & tomato.
10.95
BLT
Our own thick cut smoked bacon, piled high w/ fresh lettuce, tomato and avocado on bread.

10.95
Don's Sausage Dog
Freshly made sausage links with grilled peppers and onions on a pretzel roll.

10.95
Fried Fish Sandwich
Served on grilled rye with lettuce, tomato and tarter sauce.
11.95
Pulled Chicken
Slow smoked pulled off the bone served on a grilled bun.
11.95
Boneless Pork Rib Wrap
Baby back rib meat sauteed w/ peppers, onions, & classic BBQ sauce.
11.95
Boneless Beef
Rib sandwich on grilled ciabata roll with peppers, onions, & swiss.
12.95
Fat Jackson
Pulled pork with mac & cheese, and curly fries on grilled Texas toast.
13.95
From the Grill
Veggie Burger
Served on a soft bun, pickle, homemade chips,lettuce & tomato.
10.95
Grilled Chicken
Served on a soft bun with lettuce, & tomato.
10.95
8 oz. BUILD YOUR OWN BURGER – Add $1.00 per item
Smoked Bacon, Mushroom, Cheddar, Swiss, Pepper-jack or American Cheese.
9.95
Brisket Burger
In house ground brisket grilled to your liking topped with frizzled onion & pepper jack cheese.
10.95
Wire Mill Burger
Grilled to your liking, topped with our cheese spread, lettuce, tomato & onion.
12.95